Interview with Moxie The Love Bug

We interviewed Moxiethelovebug from Instagram!
Tell us where how your pet found its forever home and how your pet sparks joy in your life! 
"I was on PetFinder as I was finally starting to get to a place in my life where I could take care of a doggie. Back in November/December of last year I saw her post and immediately fell in love
I was disappointed as I still had a couple more months until I could move (February 1st) and finally adopt her. I told myself if my landlord accepted her and she was still available that it was meant to be! (My landlord wanted smaller dogs so Moxie just barely pass her approval) And it was one fateful snowy morning where I was working from home that I got the call and approved for her! It was definitely fate 🥰 Her backstory: She's super shy with new people and still with my roommates as they don't see her much. She used to tremble SO much but has gotten so much better in the short time of a month a half. Her owner passed away and she was separated from her 4 siblings which I'm sure put a lot of stress and anxiety on her
but we're working on so much training now and I'm sure she'll turn into a playful pup in no time."
Thank you so much for your response! We hope Moxie has a great life and gets less stressed out. With time and patience I'm sure with an human caretaker like you she'll be alright! Thank you for your response and I hope this will Spark someone to go out and make a difference in an animals life!
- Michael Jaurigue
We are looking for people to interview that have a story! Do you have a tale of how your fur babies found its forever home?
Join us with the #SPARKandBARK interviews. Tell us how your pets "SPARKS" joy in your life and "BARK" about it to the world. This way maybe someone will find their own SPARK and find a pet looking for a forever home.
Each response will be featured on our Instagram, Facebook and Blog. Just send us a picture of you and your pet and tell us the back story! That's the goal here at Sparky Steps: inspire, share adorable pictures, make an impact, give back and create a community of people who love animals. Interested in being a part of the community? Here's the link https://sparkysteps.com/blogs/blog/whats-your-story
Related Posts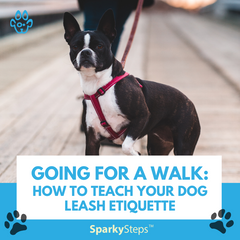 Carrie Pallardy Source   One of the best parts of having a dog is stepping outside and stretching your legs togethe...
Read More
---
Use left/right arrows to navigate the slideshow or swipe left/right if using a mobile device